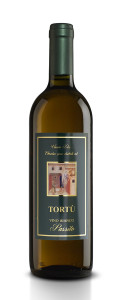 Si tratta di un vino speciale,  vinificato da una vendemmia tardiva di Moscato d'Alessandria, i suoi grappoli maturano al sole di Pantelleria che arricchisce gli acini di aromi intensi. Nato dalla collaborazione con dei giovani viticoltori siciliani, racconta la storia di un prodotto unico nel suo genere che lega le tradizioni vinicole piemontesi alla ricchezza della terra sicana.
Caratteristiche organolettiche:  Il colore giallo ambrato più o meno intenso riporta la mente ai panorami siciliani, intenso e persistente nel profumo con sentori di fichi secchi, confettura di albicocche e miele d'acacia accompagna la bocca con un gusto caldo, armonico e persistente.
Temperatura di servizio:  10°C – 12°C
Abbinamenti consigliati:  L'abbinamento ideale è costituito dai dolci, meglio se secchi, di mandorla o farciti con confetture che presentano qualche nota di acidità, esprime  al meglio la sua complessità con formaggi a pasta dura, anche erborinati o piccanti.
————-

This is a special wine, vinified from a late harvest of Moscato d'Alessandria, its bunches ripening in the Pantelleria sun that enriches the grapes with intense aromas. Born from the collaboration with young Sicilian winegrowers, it tells the story of a unique product that links Piedmont's winemaking traditions to the richness of the Sicilian soil.
Sensory characteristics:  The more or less intense amber colour brings to mind Sicilian landscapes, intense and persistent in its bouquet with hints of dried figs, apricot jam and acacia honey it accompanies the mouth with a warm, harmonious and persistent taste.
Serving temperature: 10°C – 12°C
Recommended pairings: The ideal accompaniment is with desserts, preferably dry, almond or filled with jams that have a hint of acidity, it expresses its complexity best with hard cheeses, even blue or spicy.