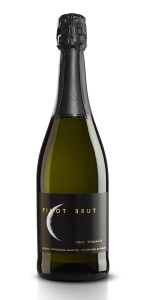 Nonostante il Pinot sia conosciuto soprattutto per la vinificazione in rosso e per gli champagne, la nostra vinificazione in bianco si differenzia ed allontana da entrambe le realtà. Questo vino nasce in risposta alla costante ricerca di fornire il massimo ai nostri clienti.
Influenzati dalle tecniche viticole francesi ed ispirato dagli spumanti del "Nuovo Mondo",  offriamo un connubio di novità e tradizione .
Caratteristiche organolettiche:  Colore giallo paglierino di media intensità, con riflessi verdolini,  attraversati da una continua rincorsa di minute bollicine. Al naso profuma soprattutto di fiori bianchi, con evanescenti sentori di crosta di pane. Al palato è corposo, di grande eleganza e freschezza, con una buona ed equilibrata  acidità.
Temperatura di servizio:  6° – 8°C
Abbinamenti consigliati:  Molto versatile, sia servito come aperitivo, o a tutto pasto, per accompagnare antipasti saporiti, salumi e formaggi freschi o fritture di pesce. Interessante l'abbinamento con dessert  particolarmente speziati a base di miele poichè aiuta a pulire il palato.
—————–

Although Pinot is best known for making red wine and champagne, our white wine making is different and distant from both. This wine was created in response to our constant quest to provide the very best for our customers.
Influenced by French viticultural techniques and inspired by "New World" sparkling wines, we offer a combination of novelty and tradition.
Sensory characteristics: A straw yellow colour of medium intensity, with greenish reflections, crossed by a continuous stream of tiny bubbles. On the nose it smells mainly of white flowers, with evanescent hints of bread crust. On the palate it is full-bodied, elegant and fresh, with good, balanced acidity.
Serving temperature: 6° – 8°C
Recommended pairings: Very versatile, whether served as an aperitif or throughout a meal, to accompany savoury hors d'oeuvres, cold meats and fresh cheeses or fried fish. Interesting the combination with particularly spicy desserts based on honey as it helps to cleanse the palate.