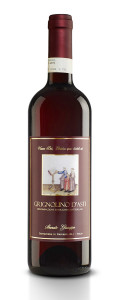 Emerge nella storia degli antichi vitigni piemontesi e trova la sua culla d'adozione nel territorio tra Asti e Casale Monferrato. Il  nome si pensa derivi da "grignole" termine dialettale ad indicare i vinaccioli particolarmente numerosi. È un vitigno molto esigente in fatto di clima e terreni, difficile da vinificare , ma regala un vino originale, imprevedibile ed estroso che accoglie appassionati consensi.
Caratteristiche organolettiche:  Di colore rosso più o meno scarico, tendente a note aranciate con l'invecchiamento.  Al naso regala un profumo delicato con note fruttate e di sottobosco spesso accompagnate da sentori di pepe bianco. Al palato si presenta austero e raffinato, regala note floreali seguite da un piacevole asciutto dovuto alla tipica presenza di tannini.
Temperatura di servizio:  15°- 17°C
Abbinamenti consigliati:  Adatto ad antipasti, torte di verdura, anatra e carni bianche. Da provare l'abbinamento con i piatti a base di pesce di fiume e lago, tipici per le loro carni più grasse.
——–

It emerges in the history of ancient Piedmontese vines and finds its cradle of adoption in the area between Asti and Casale Monferrato. The name is thought to derive from "grignole", a dialect term indicating the particularly numerous grape seeds. It is a very demanding vine in terms of climate and soil, difficult to make wine from, but it gives an original, unpredictable and imaginative wine that receives passionate acclaim.
Sensory characteristics: More or less pale red in colour, tending towards orangey notes with ageing.  The nose has a delicate perfume with notes of fruit and undergrowth, often accompanied by hints of white pepper. On the palate it is austere and refined, offering floral notes followed by a pleasant dryness due to the typical presence of tannins.
Serving temperature: 15°- 17°C
Recommended pairings: Suitable for hors d'oeuvres, vegetable pies, duck and white meats. Try it with river and lake fish dishes, typical for their fattier meat.