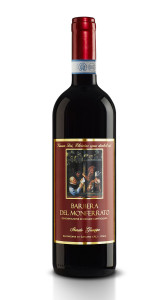 E' un vino di corpo che soddisfa i palati più esigenti nella varietà di abbinamenti possibili e di occasioni di consumo. Nella molteplicità che contraddistingue la Barbera, un'altra anima si esprime con successo nella Barbera del Monferrato, vino mosso da consumare giovane, lega la sua piacevolezza ai profumi fruttati e si presta ad una beva spigliata.
Caratteristiche organolettiche: Il colore è rosso vermiglio, con riflessi violacei più o meno accentuati. Il profumo è intenso, vinoso da giovane, persistente: prevalgono la ciliegia, la prugna, le bacche scure. Al gusto risulta pieno, armonico e leggermente tannico.
Temperatura di servizio: 18°-20°C
Abbinamenti consigliati: accompagna perfettamente antipasti, particolarmente indicato con gli arrosti ed il fritto misto alla Piemontese.
—————-

It is a full-bodied wine that satisfies the most demanding palates in the variety of possible combinations and consumption occasions. In the multiplicity that distinguishes Barbera, another soul is successfully expressed in Barbera del Monferrato, a lively wine to be consumed young, whose pleasantness is linked to fruity aromas and lends itself to easy drinking.
Organoleptic characteristics: The colour is vermilion red, with more or less pronounced violet reflections. The bouquet is intense, vinous when young, persistent: cherry, plum and dark berries prevail. The taste is full, harmonious and slightly tannic.
Serving temperature: 18°-20°C
Suggested pairings: It is a perfect accompaniment to hors d'oeuvres, roasts and mixed fried food Piemontese style.