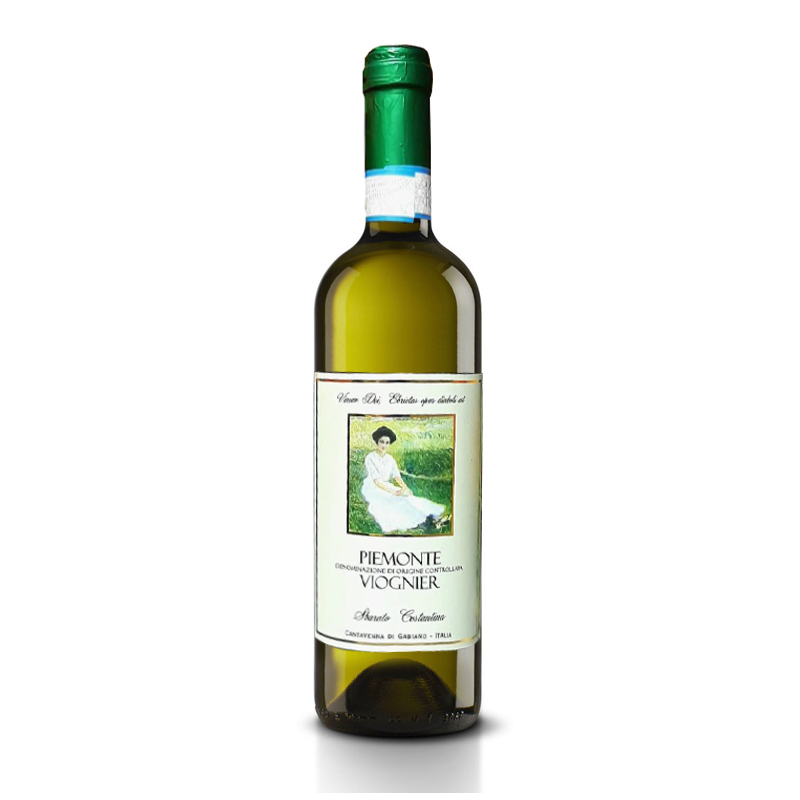 Il Viognier affonda le sue radici nell'Impero Romano; fu l'imperatore Marco Aurelio Probo a portarlo dalle zone balcaniche alla Valle del Rodano.
E' un'uva difficile da coltivare e dalla bassa produttività che per anni è stata dimenticata e sta ora vivendo una seconda giovinezza.
Dalle uve di Viognier possiamo aspettarci di vini molto intensi dal punto di vista aromatico e dalla spiccata acidità; nonostante sia un vitigno internazionale è estremamente sensibile alle differenze territoriali ed in grado di regalarci infinite interpretazioni.
Caratteristiche organolettiche: Colore paglierino brillante, in giovinezza con riflessi verdolini che tenderanno al dorato con l'invecchiamento. Al naso è intenso e variegato, gli aromi possono ricordare Chardonnay particolarmente complessi, Sauvignon Blanc ed a tratti si può ritrovare un'aromaticità che compete con il Gewürztraminer.
Dopo qualche minuto dall'apertura, nel calice, rivela le sue caratteristiche note di mandarino e caprifoglio. In bocca è pieno ma con una spiccata acidità ed un esuberante ritorno tropicale nella fase retro-olfattiva.
Temperatura di servizio: 8-10°C
Abbinamenti consigliati: la sua aromaticità ci permette di accompagnarlo perfettamente alla cucina orientale: sushi, piatti della cucina indiana e le speziature più spinte di quella vietnamita. Si abbina perfettamente anche alla nostra tradizione culinaria, soprattutto con aperitivi e ricchi piatti a base di pesce.
_____
Viognier has its roots in the Roman Empire; it was Emperor Marcus Aurelius Probus who brought it from the Balkan areas to the Rhone Valley.
It is a difficult grape to cultivate and with low productivity that was forgotten for years and is now experiencing a second youth.
From the Viognier grapes we can expect very aromatically intense wines with strong acidity; despite being an international variety, it is extremely sensitive to territorial differences and can give us infinite interpretations.
Sensory characteristics: Brilliant straw yellow in colour, in youth with greenish reflections that tend towards golden with ageing. The nose is intense and varied, the aromas can recall particularly complex Chardonnay, Sauvignon Blanc and at times an aromaticity that rivals Gewürztraminer.
A few minutes after opening, in the glass, it reveals its characteristic notes of mandarin and honeysuckle. In the mouth, it is full but with a marked acidity and an exuberant tropical return in the retro-olfaction.
Serving temperature: 8-10°C
Suggested pairings: Its aromaticity allows it to be paired perfectly with oriental cuisine: sushi, Indian dishes and the more spicy flavours of Vietnamese cuisine. It also goes perfectly with Italian culinary tradition, especially with aperitifs and rich fish dishes.