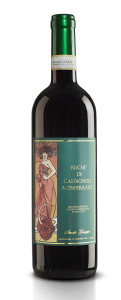 Il Ruchè è un vitigno autoctono dei più rari tra quelli coltivati nel Monferrato astigiano. Si tratta infatti di uno degli unici ( per non dire l'unico ) vini aromatici e secchi esistenti al mondo. Deriva probabilmente da un vitigno importato dalla Borgogna da monaci che li impiantarono vicino al convegno oggi scomparso di San Rocco. I terreni calcarei, asciutti, con elevata insolazione della zona di produzione regalano un vino di alta qualità ma in quantità limitata. Destinato in passato al consumo famigliare, era il vino delle 'grandi occasioni', offerto alle persone più care, da sempre legato ai momenti belli della vita; nel tempo il Ruchè ha mantenuto questi tratti, facendosi riconoscere ed apprezzare in tutta Italia ed anche all'estero. A d.o.c. dal 1987, per la sua originalità ha conosciuto nell'ultimo decennio un successo crescente, consolidato dal prestigioso riconoscimento della Denominazione di Origine Controllata e Garantita ottenuto nell'anno 2010.
Caratteristiche organolettiche: Di colore rosso mattone, ha un profumo intenso ed aromatico, con note floreale e speziate, talvolta unite a sentori di frutti di bosco e marasca. Al sapore risulta asciutto, armonico e gradevolmente morbido, con buona persistenza aromatica.
Temperatura di servizio:  18°-  20°C
Abbinamenti consigliati:  Può accompagnare tutto il pasto, dagli antipasti, con salumi più o meno stagionati, primi importanti come lasagne alla bolognese; funghi, secondi di carne o fritti fino ai formaggi di moderata stagionatura.
—————-

Ruchè is one of the rarest indigenous grape varieties grown in the Monferrato Astigiano. It is in fact one of the only (not to say the only) aromatic and dry wines in the world. It probably derives from a vine imported from Burgundy by monks who planted it near the now defunct San Rocco conference. The calcareous, dry soils with high insolation of the production area give a wine of high quality but limited quantity. In the past it was destined for family consumption, it was the wine of 'great occasions', offered to the dearest people, always linked to the best moments in life; over time Ruchè has maintained these traits, becoming recognised and appreciated throughout Italy and abroad. A d.o.c. since 1987, thanks to its originality it has enjoyed growing success in the last decade, consolidated by the prestigious recognition of Denominazione di Origine Controllata e Garantita (Denomination of Controlled and Guaranteed Origin) obtained in 2010.
Organoleptic characteristics: Brick red in colour, it has an intense and aromatic bouquet, with floral and spicy notes, sometimes combined with hints of wild berries and morello cherries. The taste is dry, harmonious and pleasantly soft, with good aromatic persistence.
Serving temperature: 18°- 20°C
Recommended pairings: It can accompany the entire meal, from appetizers, with more or less seasoned cured meats, important first courses such as lasagne alla Bolognese; mushrooms, main courses of meat or fried food to moderately seasoned cheeses.