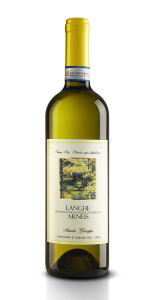 L'Arneis è un antico vino prodotto sulle colline del Roero come documentano attestazioni toponomastiche risalenti al XV secolo che lo citano nelle forme renexij e ornesio". Passaggi linguisti successivi hanno affermato il nome Arneis, termine con cui il piemontese definisce anche un individuo estroverso e un po' ribelle, originale e simpatico. Il Roero Arneis è un vino aristocratico e con una complessità di sentori tale da giustificare nei secoli scorsi anche la definizione di nebbiolo bianco.
Caratteristiche organolettiche:  Il  colore è giallo paglierino con riflessi verdolini o dorati, accompanato da un profumo  tenue e delicato, con prevalenza di pesca e melone, ricordi di fiori di tarassaco e sambuco, con finale di mela gialla. Il sapore è pieno, caldo e vigoroso, con buon equilibrio dolce-acido e sensazioni intense di crosta di pane e miele; finale lungo con esuberanza di fiori di acacia e agrumi. Caratteristico è il retrogusto amarognolo.
Temperatura di servizio:  8° – 10° C
Abbinamenti consigliati:  il suo carattere pieno ne consigliano l'abbinamento con crostacei alla griglia e pesci saporiti o, più semplicemente, con gli agnolotti piemontesi burro e salvia.
—————

Arneis is an ancient wine produced on the hills of the Roero, as documented in toponymy records dating back to the 15th century which mention it in the forms renexij and ornesio'. Later linguistic passages affirmed the name Arneis, a term with which the Piedmontese also define an extrovert and somewhat rebellious, original and likeable individual. Roero Arneis is an aristocratic wine with such a complexity of scents that in past centuries it was also called Nebbiolo bianco.
Sensory characteristics:  The colour is straw yellow with greenish or golden reflections, accompanied by a soft and delicate bouquet, with a prevalence of peach and melon, hints of dandelion and elder flowers, with a yellow apple finish. The flavour is full, warm and vigorous, with a good sweet-acid balance and intense sensations of bread crust and honey; long finish with exuberance of acacia flowers and citrus fruits. The bitterish aftertaste is characteristic.
Serving temperature: 8° – 10° C
Goes well: Its full-bodied character makes it ideal with grilled shellfish and tasty fish or, more simply, with Piedmontese agnolotti (stuffed pasta) with butter and sage.